While we do have some stuff in the shop that's ready to pick up today, the bulk of our business is custom orders. And once December hits, it's really gonna be almost too late to get any custom work done. We've already got the framing elves working extra hours to get our holiday orders finished up, but that doesn't me that we can't squeeze in one or two more projects! If you've still got someone hard to shop for on your Christmas list, we can virtually guarantee that we can help create a meaningful, thoughtful gift that they'll love! Here's a few ideas:
Silhouettes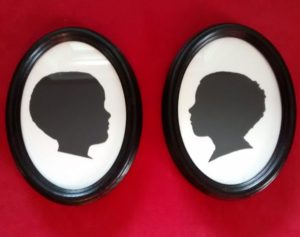 This is a gift with a vintage flair! Once all the rage in victorian times, a silhouette can capture a moment in someone's life with an artistry and feeling that a portrait just can't match. One of the post popular time we see people ordering one is  silhouette of the kids for a parent or grandparent. But no matter who it's for, we can take care of the hard work!. We just get a quick side view of the subject and send it to our artist. He gets us back a super-accurate silhouette that we can frame up, ready for the perfect gift!
An Emotion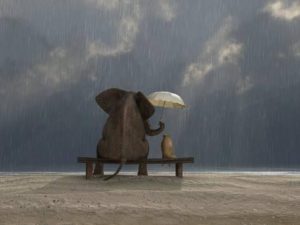 Sometimes there's something you want to say, but you just can't. Maybe you want to tell someone that they're your rock, or thank them for helping you through a rough patch, but the words just won't come out. And would a fruit cake or a glassware set say, "Thanks for being part of my kids' lives,"? But throughout human history, from the earliest cave walls to modern studio apartments, humans have been expressing these complex thoughts through art. We can help you find an image, maybe a photograph, maybe a print of a painting or maybe even an original piece, and get it framed up and ready to give. When words fail, try art!
Re-frame Something
Maybe the perfect gift is something they already one. After all, you know they already like it! One of the services we commonly perform is reframing existing works. Perhaps because they weren't done correctly in the first place and the framing isn't doing a good job of protecting the piece, or sometimes just because the piece needs a new look. Whatever the reason, if you can sneak an existing piece out of the house, we can redress it in a brand new frame and high quality glass, creating a gift you won't have to worry about them loving, but still full of love and thought.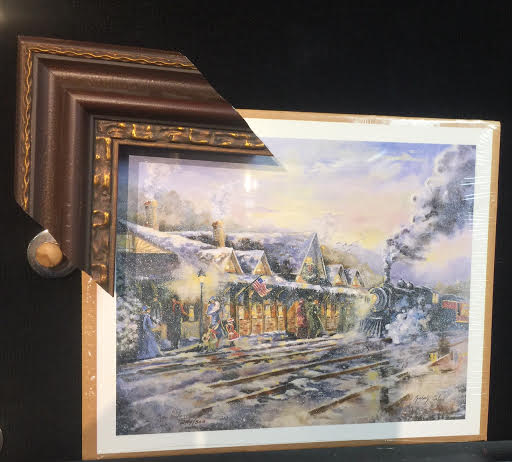 Create a Shadow Box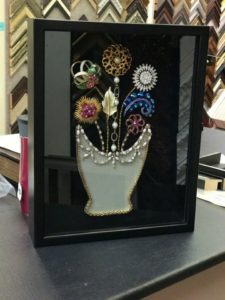 Ok, so admittedly, we mention this one a lot. But that's only because we've gotten to see all the amazing shadowboxes that people have ordered through the years! Everyone has things they've saved over the years that mean a lot to them. Often it's keepsakes from the kids, but it can also be movie tickets from a first date, letters from a soldier or fishing lures with a special memory. In fact, we recently framed a tiny flower that had been pressed and handed down through the family for years. Usually these are thrown in a cigar box somewhere and looked at when it's time to clean out the underwear drawer. But we have a better place for them. We love to create beautiful, meaningful shadow boxes out of these keepsakes. The short version is that you bring in what someone finds so special and we'll help come up with a design to not only show it all off, but to protect them for a lifetime and make a piece of art in the process.
Gift certificate.
Sometimes known as the laziest Christmas gift ever, with a little thought it can be anything but. We can help you decide on an amount to fund a certain project that the recipient might want to have some say in. We can even take a picture of what you think they'd want framed, or where they'd want to hang it and we'll put it in a quick frame with the gift certificate to have a certificate that's truly giftable.