Here at McDonald Niklaus we're big fans of supporting local artists. One of the ways we do that is to help provide a place for local artists to show off their work. We recently got in a whole rack of artwork by local artist Betty Gribble and we're super excited to show it off!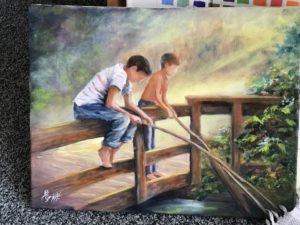 Betty says she's always been artistic and crafty, but she didn't start painting until a few years ago, when some life changes pushed her to explore her interest. Betty told us, "This is what I should have been doing all along." And we couldn't agree more. When you look through Betty's work you'll notice a lot landscapes, animals and water scenes. These inspirations come from Betty's childhood spent on the Atlantic coast. Growing up around New York State and New Jersey, she spent most days at the beach, including regular crabbing and learning how to water ski right in the ocean. I would assume that skiing at Atwood seems pretty tame by comparison!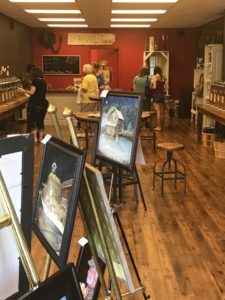 But this love for nature and water stuck with her forever and still shows up in her artwork. These days Betty usually paints with oils at her home workshop and gallery. "I started painting from nature photographs we took in Canada, but I've gotten better now at painting what I can imagine," she told us. Betty often aims to evoke feelings of beauty and serenity, "I primarily paint things that you never want to forget." You can see a few snippets of her artwork here, but we've got a several of her works in the shop, ready for your custom framing job. Or you can contact Better directly about painting a certain piece or to see what else she has to offer. You can reach her at betty1943g@gmail.com.